Private Lunches/Business Meetings

622 North offers our Wine Bar for private lunches.  Whether a business meeting, club meetings, or any gathering that will require a secluded table, make 622 North your destination. The Wine Bar offers the perfect space for private events because of it's ability to have a closed space, beautiful ambiance and large size.  The Wine Bar can host parties ranging from 8-42 guests.  Lunch is served Tuesday-Friday 11:00am-2:00pm.
Reservations are required.  To make a reservation please contact us at info@622north.com.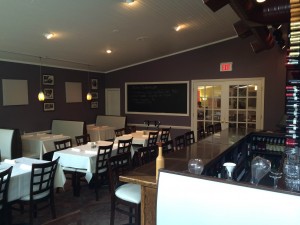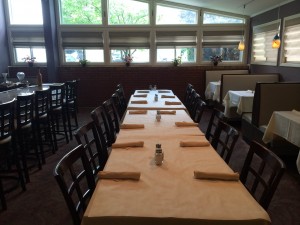 Private Dinners
Our second floor boasts one of the only truly private rooms in Blacksburg.  The banquet room seats up to 40 guests and has a large plasma television with satellite TV access as well as AV, and laptop connections.  The room is ideal for all private business meetings, rehearsal dinners and social gatherings.
We are also able to host private events in our wine bar, depending on the availability of this popular area of our restaurant.  The wine lounge has a capacity for 42 guests.
Finally, 622 North's restaurant and wine bar together have a total capacity of up to 150 guests.  Depending on the date and time, the restaurant may be available for private gatherings.  As with all of our private event / dining options, we can customize menu options to accommodate our customers' specific needs and desires and can work with our customers to arrange entertainment for their gatherings.
If you are interested in holding your event with us, please drop us a line at info@622north.com with the date, time, number of guests, and any questions you might have about your event, the space, and how we can best serve you here at 622 North.