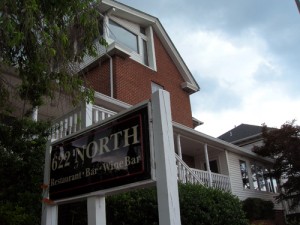 Upcoming Events:
Wednesday 5/6/15:  Founders Beer Dinner- 4 course meal paired with 4 Founders Brews.  More information available on our Facebook page.  Reservation required.  Call for a reservation.
Friday 5/8/15: Founders Tap Takeover Begins at 6:00.  We are also doing a VIP event for the tap takeover: $30 upfront which will give 2 hour early entry, event t-shirt, glassware, other Founders swag, and a free 16oz beer.  Call to sign up for the VIP event or just show up for the Founders Take over.
Saturday 5/9/15:  Founders Tap Takeover continues all day.

Saturday 5/9/15:  We will be serving Brunch from 10:00-12:00.  Starting at 12:00 we will be serving our dinner menu, which features plenty of entrees, sandwiches, salads for all appetites.
Sunday 5/10/15:  Mother's Day Brunch is buffet style being served from 10:00-2:00.  Adults are $20 and children are $12.  We are not taking reservations for brunch, but we are using our 30 minutes call ahead method.    We are also serving dinner on Mother's Day from 5:00-9:00 and are taking reservations for dinner service.
Virginia Tech Graduation (Friday 5/15/15-Saturday 5/16/15):  We are no longer accepting reservations during these days.  We are, however, only reserving part of the restaurant, leaving plenty of large tables available for walk-in dinner service.  We are also opening up our upstairs banquet room for additional seating over the weekend, so that we can accommodate as many groups as possible.  For walk-ins, we recommend using our 30 minute call ahead method- call 30 minutes before your party arrives to the restaurant.  This will put you down on our wait list to help speed up the wait process.
Friday 5/15/15-We are serving a lunch/dinner hybrid menu all day from 11:00-9:30.  Note: We will continue seating until at least 9:30 PM due to the VT Corps of Cadets graduation.
Saturday 5/16/15-  We are serving our lunch/dinner hybrid menu from 11:00-9:00 and will NOT be serving brunch in the morning.
Sunday 5/17/15- Business as usual.

622 North is housed in a large, recently renovated Victorian building in Blacksburg's historic Downtown District. We offer an eclectic assortment of meals for lunch and dinner with influences from many regions of the world. We also offer several daily specials which can be enjoyed a la carte or as three course meal.  All of our meals are made from the freshest ingredients.
622 North restaurant, wine lounge, and bar, has an overall seating capacity for 250 guests. We have three bright and beautifully appointed dining rooms on our main floor.
Our main floor also boasts a stunning wine bar. The only wine bar in the NRV, our guests can enjoy a meal from our full menu or a smaller treats from our starters menu. The wine bar currently carries over 100 wines from all over the world and with value and quality for any budget. If you're not into wine, don't worry, we offer our full drink list at the wine bar including fresh, hand crafted cocktails and martinis, our whiskey menu, and our extensive list of bottle and draft beers.
During the warmer months we open our patio which is nestled beside the garden and overlooking the action on Main Street and the sunset over the Blue Ridge mountains.
Frank's at 622 North is our full service bar on the main floor. Frank's has two pool tables, video games and state of the art televisions that are perfect for Sunday NFL Ticket, Barclays Premier League, and especially Hokie Sports.  Frank's also offers a private lounge with a sectional couch, coffee tables and a 60" LCD television. You can enjoy one of our many beers or mixed specialty drinks on Frank's sun soaked deck.  Frank's Bar is non-smoking.
We have a private dining room on our second floor which seats 36 guests. The room is perfect for rehearsal dinners, private events, receptions, and meetings.  It features a large plasma television with AV, PC, and Mac hookups for music, movies, presentations, or whatever your viewing needs may be.